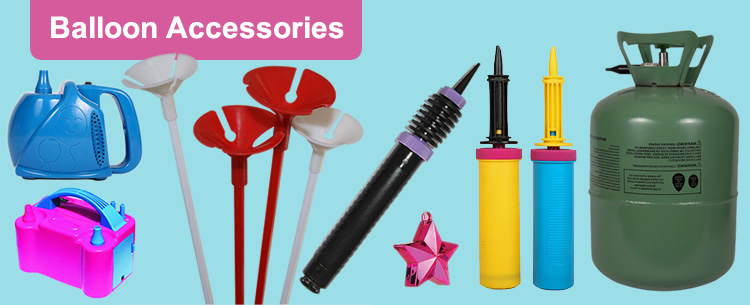 Balloon Accessories
TOTA is your one-stop factory for bulk Balloon Accessories! Whether balloon Decorator, Wholesaler, Distributor, retailer, party supplier, TOTA has everything you need to make the balloon perfect. We carry a wide variety of balloon accessories such as Balloon pumps, balloon sticks and cups, one piece sticks and cups, water balloon pumps, self-sealing water balloons, foil balloon weights, plastic balloons weights, balloon release nets, balloon drop nets, LED balloons, light up balloons, custom printed and shaped foil balloons, imprinted latex balloons. They are perfect for selling with your balloons, what balloon would be complete without the balloon accessories?
We provide the custom branded products, not only the custom printed package, but the custom designed products. Such as branded balloon pumps, custom made balloon weights, balloon sticks and cups, balloon decoration materials, balloon tree, ribbon, clips, electric inflator, streamer.
You are welcome to visit our factory, you will be satisfied with our amazing selection of bulk balloon accessories and balloons!